AWARD WINNING GUITARIST
Instrumental Guitar Music for any Event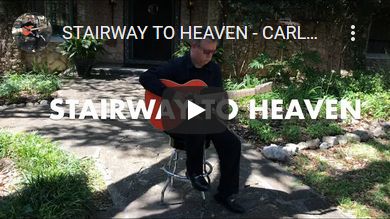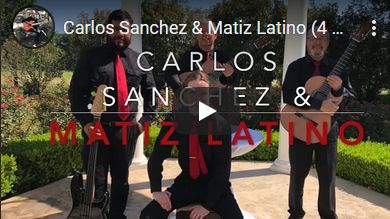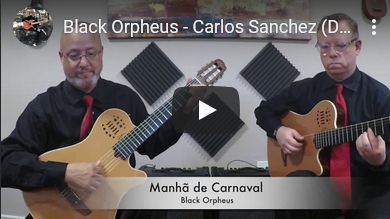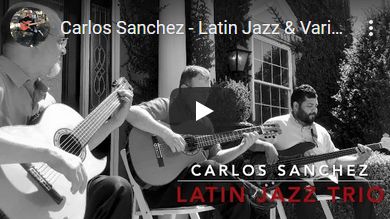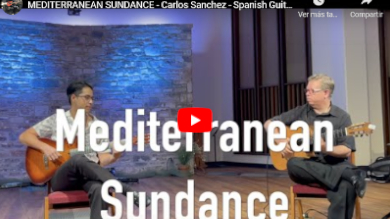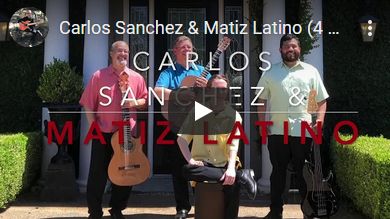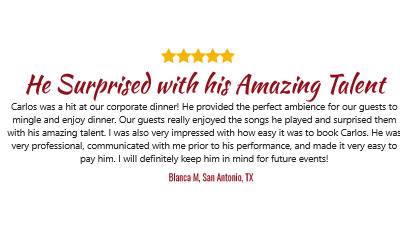 Carlos was a hit at our corporate dinner! He provided the perfect ambience for our guests to mingle and enjoy dinner. Our guests really enjoyed the songs he played and surprised them with his amazing talent. I was also very impressed with how easy it was to book Carlos. He was very professional, communicated with me prior to his performance, and made it very easy to pay him. I will definitely keep him in mind for future events!
He Surprised with his Amazing Talent
Blanca M, San Antonio, TX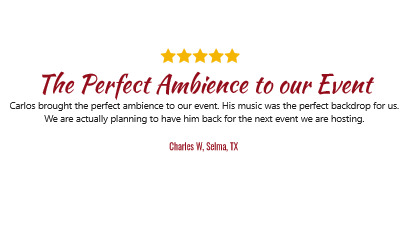 Carlos brought the perfect ambience to our event. His music was the perfect backdrop for us. We are actually planning to have him back for the next event we are hosting.
The Perfect Ambience to our Event
Charles W, Selma, TX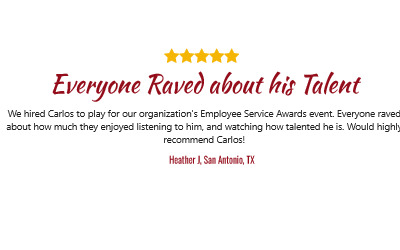 We hired Carlos to play for our organization's Employee Service Awards event. Everyone raved about how much they enjoyed listening to him, and watching how talented he is. Would highly recommend Carlos!
Everyone Raved about his Talent
Heather J, San Antonio, TX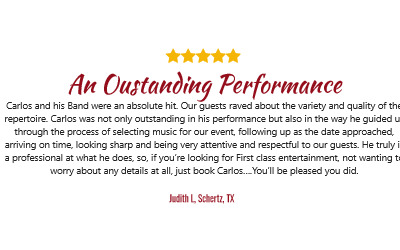 Carlos and his Band were an absolute hit. Our guests raved about the variety and quality of the repertoire. Carlos was not only outstanding in his performance but also in the way he guided us through the process of selecting music for our event, following up as the date approached, arriving on time, looking sharp and being very attentive and respectful to our guests. He truly is a professional at what he does, so, if you're looking for First class entertainment, not wanting to worry about any details at all, just book Carlos….You'll be pleased you did.
An Oustanding Performance
Judith L, Schertz, TX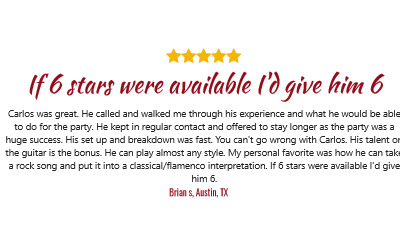 Carlos was great. He called and walked me through his experience and what he would be able to do for the party. He kept in regular contact and offered to stay longer as the party was a huge success. His set up and breakdown was fast. You can't go wrong with Carlos. His talent on the guitar is the bonus. He can play almost any style. My personal favorite was how he can take a rock song and put it into a classical/flamenco interpretation. If 6 stars were available I'd give him 6.
If 6 stars were available I'd give him 6
Brian s, Austin, TX